WolkyTolky Drain Monitoring System
With the WolkyTolky Drain Monitoring System, you can automate drain monitoring.
More and continuous insight
If a plant is not given water for too long, it becomes stressed. This can significantly reduce the yield.
As a grower, you don't want to be dependent on one or a few employees who check the drain manually.
With the WolkyTolky Drain Monitoring System, you automate the check. Steering on drip cycles can therefore be faster and more accurate.
How does the Drain Monitoring System work?
The WolkyTolky Drain Monitoring System (DMS) measures the flow of the from incoming water and the flow of the outgoing drain that has flowed through substrate. This allows us to detect a irrigation cycle and calculate the drain. In case of too little incoming water, too little drain or too late drain in the morning, the system can give alarms so you can act quickly. This allows a plant to grow much more consistently, increasing the yield per plant.
With the optional pH and EC sensors, the pH and EC values can be measured both in the incoming water and in the drain water. Alarms can also be set here. The dosage of fertilizers can thus be optimally controlled.
Insight into the drain throughout the day
Through clear graphs you can see how many milliliters of water go in and out per irrigation cycle. In the same graph you can also see the development of the drain during the day.
Because you can set alarms if the drain starts too late in the morning, you can act much faster and prevent stress in the plant.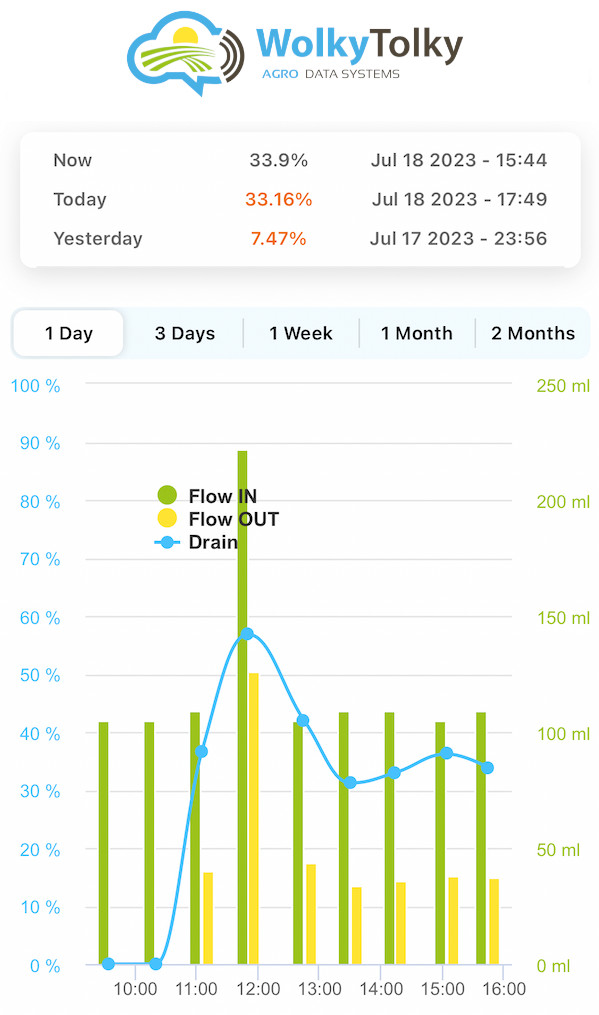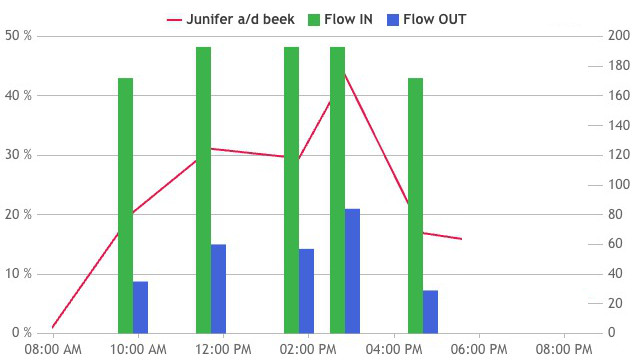 Comprehensive analysis in the web portal
In our web portal you can make extensive analyses. This gives you insight into the drain, EC and pH values throughout the growing season. With this insight, you can optimize watering, which benefits the yield.
Differences in tap areas can also be analyzed more quickly here.
What does the WolkyTolky Drain Monitoring System measure?
pH IN
pH OUT
EC IN
EC OUT
pH IN
pH OUT
EC IN
EC OUT
Volume Water Content in substrate
EC in substrate
Temperature in substrate
Benefits of the WolkyTolky Drain Monitoring System
Continuous insight into the drain
Alerts in case of no or too little drain
Cost savings compared to manual measurements
Enables more efficient water management
Consistent crop growth
Improved harvest quality
Increased yield
Peace of mind for you as a grower
Request for a Quote
If you desire more consistent plant growth, higher yields, and greater peace of mind as a grower, please request a personalized quote below. If you have any questions or specific requirements, feel free to let us know by filling out the form below.